Yale University researchers have isolated the predatory instinct neural circuitry in mice. Then, using optogenetic engineering, they were able to selectively activate these neurons.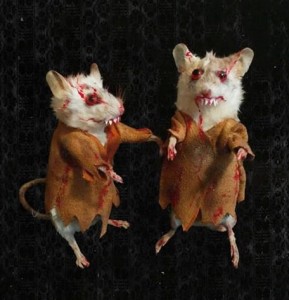 With the laser switched to 'ON', "the mice take on qualities of "walkers" from The Walking Dead, pursuing and biting almost anything in their path, including bottle caps and wood sticks."
Further details are provided in the research article below:
Han, Wenfei, et al. "Integrated Control of Predatory Hunting by the Central Nucleus of the Amygdala." Cell 168.1 (2017): 311-324.